The day started early to get up around half past seven to make me order and for breakfast. The sun is shining unlike the rain of the week. Ready to look after I packed my camera and other necessities in my bag, then take it off and pick up Ellen in the center of Färgelanda. With a happy mood we went down to Uddevalla to pick up the girl number 2, Caroline, who also contributed to the music of today. It was against Borås.
After about two hours, we arrived at Borås station and we bought some coffee before we went to Borås Jewish Hall, located in a former city hall. White colors, high ceilings with large windows that adorned the walls of the room. Upstairs we sat down at the balcony where you had a good view of the whole judo mat.
The juniors had already begun their performances by Kata before we arrived, and they continued on until about 10.40 if I did not remember wrong. At the beginning of each show, the silence passed over the room. The young participants showed courage, concentration and a mastery of their throws. Never before have I seen younger perform Nage no Kata, but they gave me the hope that this competition will grow more and more.
Junior Kata:
– Nage no kata: age filled 12 to 15 years – the second and third series.
– Nage no kata: age filled 16 to 17 years – three first series.
– Katame no kata: age filled 12 to 15 years – just the first series.
– Katame no kata: Age filled 16 to 17 years – the first and second series.
After the young people's award ceremony, the Seniors category should be started. First out was the whole series in Nage No Kata.
Nage no kata: 5 series with three throws in each.  This kata is for 1 Dan.
1. Uki Otoshi – Ippon Seoi nage – Kata Guruma
2. Uki goshi – Harai Goshi – Tsuri komi goshi
3. Okuri ashi harai – Sasae Tsuri Komi Ashi – Utchi Mata
4. Tomoe Nage – Ura Nage – Sumi Gaeshi
5. Yoko Gake – Yoko Guruma – Uki Waza
Many nice shows in this kata were made and you saw the variation in their course, attitude, throw-away and detail. What stood out was that clear movements and firmness made the snaps better in appearance. Nage no Kata was the category with the most performing couple but after that it was time for Katame No Kata.
Katame No Kata: Forms of Grip in Randori. Performed in ne waza with both holds and arms and necklaces. Many movements were made by moving the knee from the side to the head of the week, etc. At every retention, arm and throat, when Tori had grabbed his hand, Tori tried to show me now, I'm ready and then I'll try to get lost until they've tried or have to pat.
Juno Kata: Is a Kataform to symbolize as a form of Tai Chi in the movements of the show. Today, only one female couple was involved and did this. Very soft movements, twists, lifting and bending of the body contained this kata.
Kime No Kata: Form of gripping and throwing. Displays self-defense protection against both knife and sword and manipulation of the body's movements. The cat consists of 8 knee technicians and 12 standing technicians. Arm and neck and stroke. Judokast used is O soto Gari, Harai Goshi and Seo Nage.
Kodokan Goshin jutsu: Is said to be an update of an older kata that was made in 1956. Modern form of self-defense. Influenced by Aikido. Attacks from handles from double to one hand, back attacks, vs. kicks, gun, knife and coarse wooden stick.
Itsutsu no Kata: 5 technicians. Movements inspired by nature, eg. the ocean's movements expressed by Judo. No names are found on the technicians and are therefore seen as an incomplete kata by Jigoro Kano. The idea of this kata is that it is universal in connection with our nature. Video: Itsutsu No Kata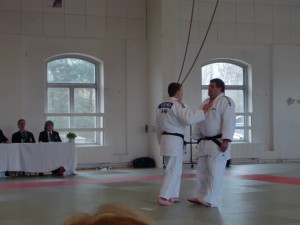 These different types were shown on this Kata Sm in Borås. For me who had not been on this type of competition before, I was very impressed by how talented the contestants were in each Kata. To before the rise of the judo mature show total concentration and goal awareness and do not look nervous. Also, see that you can show several different kators, both week and tori, to keep track of all movements in each order. Very impressive.
Also met the goa happy and spranky guys from Kallinge Judoklubb, who furthermore dominated the club with four out of five class wins. Congratulations on your success and happiness in the future!
The next Kata competition will be on August 25th, when NM in Kata will take place in Skurup.
/Guardian angel Eleonor