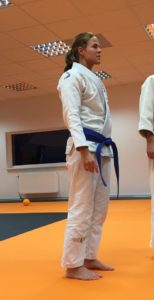 Kattis Thorngren, blue belt and practicing mixed martial arts in Trosa-Vagnhärad Martial Arts Association. Started as judocoach in 2012 and is sharing her judointerest with five of her six children. On the coachfront, she sees a bright future ahead.Here you get to hear her thoughts on just that.
The club was started about seven years ago and I was there, the very first workout. My oldest son got the idea that he like to try, then his good friend was versed in this start creation project and wanted to join him. So there I stood and listened to Mattias,chairman of the club, first speech to us parents, in a tiny cold room in the loft of a workshop facility.I've been there at every workout and felt the adrenaline pumping when my son and his training partners fought on the mat. Then they started a girl group in MMA, and I was'nt slow to catch on. The battle was my thing!
The club grew, more sons hooked on, we had to move to larger premises and I took a step into the judo mat and then also into BJJ. Training groups increased constantly in the number of children and kept the coaches busy. We had three judo coaches, the best ones you could ever  wish for, three large, strong and genuine martial arts guys. The kids loved them and they gave super fun sessions! Though of the need for more coaches began to be real and soon landed on my matter. Could I imagine stepping over the coaching side?
The thoughts began to spin. I'm not the one with great judo experience or great technique habit. But as the only girl in a large family of eight, I felt the need to show that it's not just big strong guys who train martial arts judo. That there are actually little girls on the mat too! Then I decided that I too can become a coach. I'm not the most knowledgeable coach on the mat and not all techniques are clear to me with the right combinations, counter-attacks and defense. I have not lived with judo since my childhood and is far from being raised in the martial arts world. But I contribute with something else that weighs almost as heavily as that.
The step into the mat on the coaching side was really exciting! Suddenly I came in to the backplay of Exercise, with planning and session structures. I could see the details of the techniques and how they are most easily taught. And that children can and can cope much more than we adults think! In contrast, I could also quickly notice differences in parents and children's attitudes towards us coaches, against the big boys on the coaching side and then little me. Because it was different approach.
In the beginning I found for example that some children had quite difficult to grasp my instructions, or to even look me in the eyes, so there I really got to show that I called for the same treatment. But the more fun then I gradually felt that the respect for me grew and how we ended up being really good friends – Me and all the kids. The groups I have been coach of varied part, kids in the age of six up to those who are now fourteen, so I can now say that I know them all. Which is great fun! I now call them my judo kids.
So my role is more than just to teach judo, it is also to show that girls can be small and still strong. That girls both can practice judo and be a coach. And above all, that girls also have the right to demand respect and attention. Not only to strengthen the girls who come to the club, but also to support the guys and their worldview.
Therefore, I chose to become coach. "
/ Kattis Thorngren