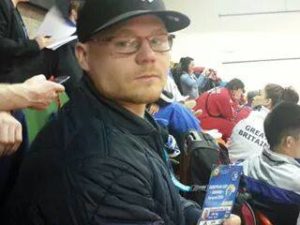 Here's Calle Rundström 26 years old. He have been active in judo for 14 years, mostly in Uddevalla judoclub. Graduated to 1 Dan in 2010 then changed club to Trollhättan Judoclub until the start of their own club Korpehôla Judoclub in  2013. He's a driven guy with high goals for the future both in competition but also on the newly established club in Uddevalla.
My own competing-career so far has given me the opportunity to participate in a total of 55 competitions, mostly in shiai but also two competitions in Kata. I have won about 40 medals. A future goal for myself is to win the Gold medal in both Shai and Kata as well as taking a podium finish at the European Cup in Shai. But now, enough about me more about the Club .
The idea of ​​Korpehôla Judo Club came about two years ago when me and my brother Dennis wanted a little closer to training, while we wanted to try to have something of our own. Pretty soon our old training partner Claes became involved in that idea. In October 2012 we began looking after a premises to be in, and shortly after that I came in contact with Tommy on Bohusläns Martial Artcenter. On the 1st of november the same year, the first "test training" began and this continued every Saturday for the rest of the year. In December 2012, we decided together with Dennis and Claes to start up the club and on the 12th we had a "start meeting". Shortly after takeoff, we began the search for cheap judo mats, and after some searching we came in contact with Leif, who previously ran Munkedals Judo Club. Leif was very helpful and the club was able to purchase our first judo mat.
In January 2013 the club held its first official training. The club started with three different training groups, with two workout days per week. In January 2014 we decided to start another group and in the current situation it is conducted judo in four different training groups on three trainingdays. Current situation now, the club has been active for almost 2 years, the association is composed of approximately 40 members and hopes to grow more in this fall, then we continue with several recruitment projects. Although the club is very young, we have already had some success on the competition front, both Shai and kata. Silver at Kata-SM in 2014, three 5 places at Swedish Nationals and two ninth places at the European Cup.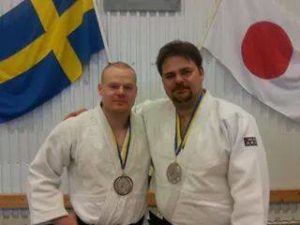 The association we wanted to create as a club would be an open warm community, where everyone is welcome. Right from the start we wanted cooperation with other clubs, mainly in our own district. The decision was made early to invite to co-trainings. Something that still occurs, with little interest, which we think is sad. We also try to send our members on activities as much as our finances allow, while also trying to invite guest coaches when the opportunity arises.
This fall we are loading to continue developing our association and obtain wider judo skills. Because  judo is like life, no mather how much you can do, you will never perfected. Big thanks to Dennis Rundström who contributed text/content, and made much of this a reality.
Calle Rundström, Korpehôla Judo Club