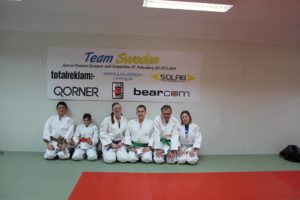 Here Johan Orrbo from Stenungsund Jk, Sweden is writing about his journey with his daughter Amanda and the other team from Sweden to St. Petersburg, Russia for the Special Olympics. 
Last fall , my daughter Amanda took part to represent Sweden in a Special Olympics competition in Russia. I was asked as one of two coaches who would come with. The hole team consisted of two coaches and a so-called Head of Delegation, six active (three guys and three girls). It was not easy to get all the papers prepared for nine people plus a another parent would be come with as a spectator. I had to act in the name of all of us and was battling with the Russian organization and Visa authority. With only fifteen minutes to spare at the absolute last date for submission of visa applications , I received all the information , and we got our visas just before our journey. Before this contest , I had also taken it upon myself to purchase some clothing, bags and tracksuits to the whole squad. I also managed to get some businesses to pay these costs and one equipment supplier resulted in a good discount as sponsorship. Then I got the help of a local advertising agency in Stenungsund pressing logos and such on our clothes and bags so when it was time departure we looked like the national team we were.
We gathered the day before departure in Landvetter dojo where some of the active where from, also from Gävle , Stockholm , Staffanstorp and Stenungsund. When we arrived at Landvetter dojo we took the opportunity to take some photos on the team with the new tracksuits. We had also been given a stylish banner with "Team Sweden" on and sponsors printed too. After a night with little sleep we got up early in the morning and got a ride up to Landvetter airport. The check- in and security was passed without problems, and we got some breakfast before our flight. We landed in Berlin and had to wait four hours for our next flight to St . Petersburg. The night before in the dojo we gave the team an opportunity to get to know each other a bit more before the week that we would spend together. The time at the airport went decently fast and soon we were sitting on the plane to Russia.
On arrival to St.Petersburg, it was a little tense when we were to pass passport and visa control, but despite grim expressions were all admitted. When we then got through customs a bus was waiting to transport us to our hotel. The traffic in St.Petersburg is horrible, heated and after a nasty ride for forty minutes we stood in the lobby of the Bristol Hotel. We were almost immediately divided into our rooms, the girls got one room and the guys one room , then the idea was that the two coaches would share a room and the Head of Delegation would have your own room. Me and Jennifer were coaches would then be sharing and Bea who was the HoD would stay in her own room, but we quickly realized that it was better that I got HoD room and the ladies shared the coaching room. Then we and some other teams had arrived a day earlier than expected so Special Olympics Russia decided that there should be an activity the first day. So it was sightseeing a with guide together with Team Austria and we got to see a rainy St.Petersburg,  many beautiful buildings and a lot of statues. We managed to find a Subway restaurant and got us a little lunch.
Back at the hotel it was time for accreditation and the delivery of gifts from the organizers and the city. We also submit the team judogis for the number sewn on. After a good night's sleep it was time to head for the competition arena for training and division of the team. The special needs judo divide in judgment of active by their ability into five different levels. Level One is a high functioning active that can be included in the national mainstream judo competitions and maybe have a chance to win. While level five is a active who might be able to accomplish a fraction of the techniques in ne waza or lying down. The russians are not used to this type of approach , we chose to run the first training with just judging Russian participants and their coaches , current coaches were James Mulroy from Ireland. James is a very good special needs coach and trained disability judge, he also chose me as an assistant coach at both sessions, which was very interesting when I were one of the lower graded coaches. The training with the Russians was very intense and interesting, I have rarely seen so such aggression among young people, regardless of level or disability. We were completely exhausted after the first training, but appeared directly on the next one with the others where it went a lot smoother to implement division. Partly to many of them European coaches are more familiar with the system and had already pre-specified the level of their active. This training number two was just as fun and sweaty. Right after a bus took us to a huge shopping center with a huge playground / arcade where we got to play limitless for hours , my coach colleagues took the opportunity to shop and I was like a kid on Christmas Eve!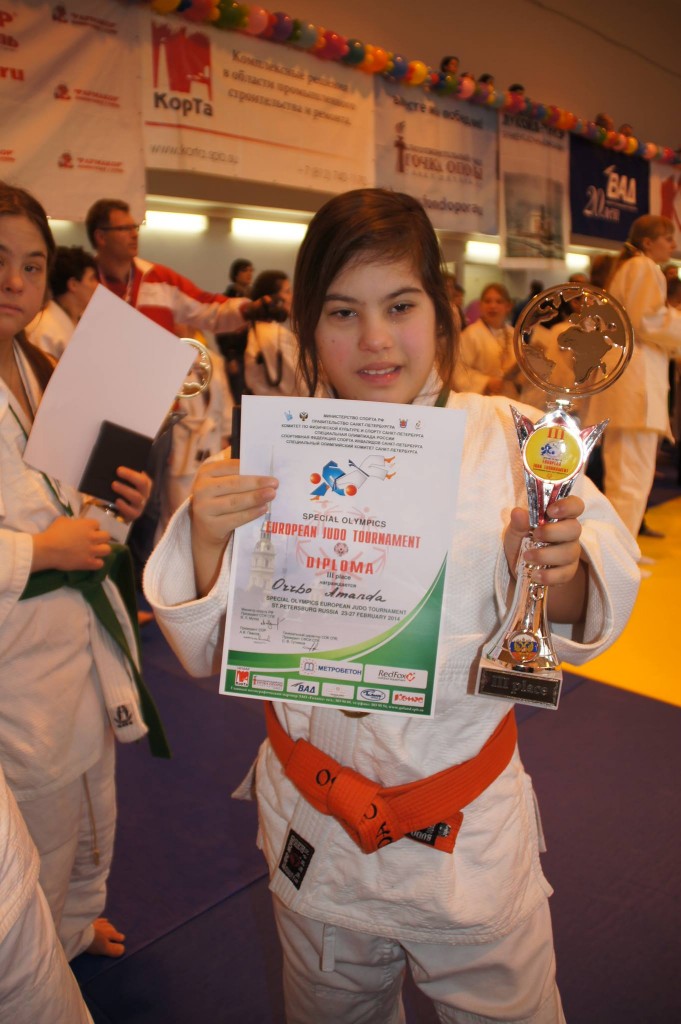 After a night with a little sleep, it was time for the first day of competition. This day was all girls and boys under eighteen years old, we had been very successful in our divisions and many matches were very even. Amanda got great resistance-fighters but had the week before departure catch a cold and remained at home. Her cold had not dissapeaared completely and she was not quite herself, but she fought really well but lost three fights, which meant a bronze medal. The other two who competed for Sweden on this day were also settling for bronze medals for good and close fights .
When the competition was very even it slowed down a little at the time schedule and the ceremony was stressed through. For everyone to get back and get changed before the opening ceremony to begin, we got a police escort to a giant hotel where the opening ceremony was taking  place. The opening ceremony consisted of a bunch of Russian politicians and sports managers who would made speeches and then we got to see over two hours of dance and listen to the national anthem of russia. Then it was time to trice the Special Olympics flag and declare the Games open.
After a night of a little better sleep it was time for competition day number two. This day we had the last three competitors of our team to run. Our results was a bronze and two goldmedals! Then there was a bit less fights that day so there was little more time off and it was decided that we would run a Master Class competition with coaches from the different countries there. Norway, Costa Rica, Russia, Hungary, Kazakhstan and me from Sweden lined up, the fights was run as a king of the hill contest, I won a little unfairly against a norweigan womans coach and got in my second match a really great Russian who then went and won the whole competition. But I fell out wuth a high flag and had great fun.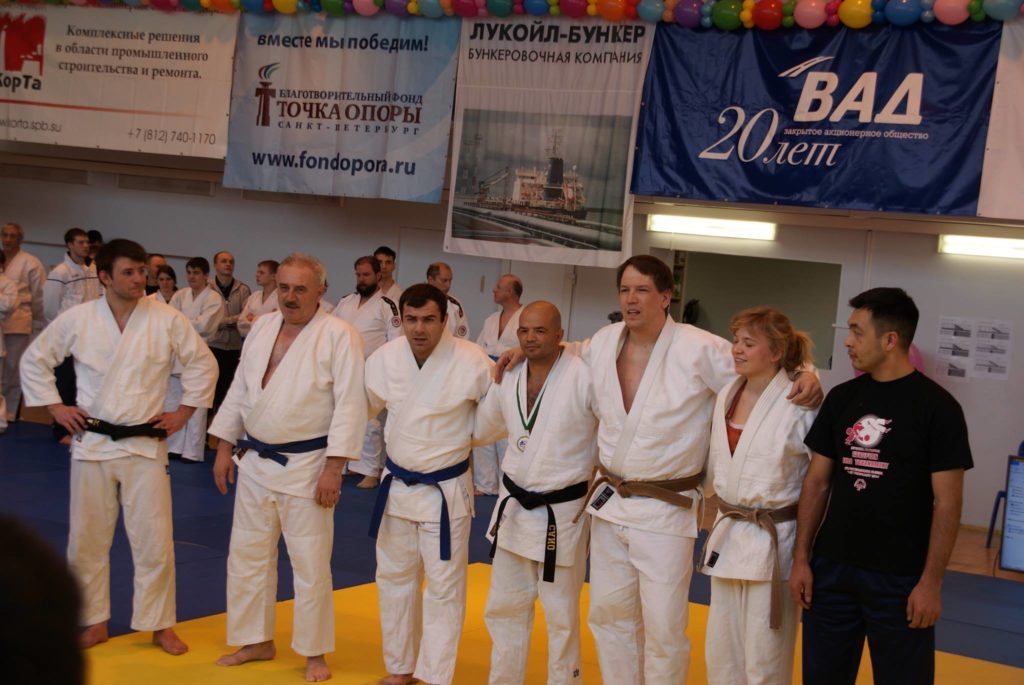 There were also medals for us and after the awards ceremony a closing ceremony started with dance performances and Aikido show. Later became a bus sightseeing around the entire city St.Petersburg with a guide and a little short stop for photography. We were then run directly to one of the largest bowlinghalls I've ever seen, and each country had its own court and so was the competition about was the best country. Russia won the bowling contest, after that it was time for all to have dinner on a nearby restaurant. Later the coaches and HoD were invited to a gala dinner and the contestants got to go to a disco. After that evening we had almost two days to ourselves with some shopping before it was time to once again travel home through Berlin. The trip home was a little tough when our transfer from the hotel went a little earlier than we had expected, so there was a lot of waiting on the airports before we could land back again in sweden.
The trip was fun, interesting and a little bit absurd. I can tell you this much, that they do things differently in many different aspects, the food was not that good even though they served the three courses every day. The competition was carried out quickly and efficiently without computers. The event was very lavish but unfortunately missed it's target a little bit, then they did not always have an eye on what is working or not with disabilities. But over all we were all very pleased with our trip and we will carry that with us for a long time. They plan next year to run this competition again and double the number of participants plus more countries. It's currently being built up a new arena for the purpose. If I am asked, I will undoubtedly go there again. For Amanda, this has been a huge experience that few get to experience.
Best Regards
Johan Orrbo
Coach Special Olympics Sweden Judo Team